Hey guys!
Here are all the books I read this month...
1: MY TRUE LOVE GAVE TO ME
AUTHOR: various authors, edited by Stephanie Perkins
PAGES: 355
SERIES: none
THOUGHTS: Some stories were better than others, but overall this was really cute and festive. My favorite story was definitely Rainbow Rowell's, which shouldn't really surprise anyone. The woman is a Queen (and she tweeted me today. HOLY CRAP)
RATING: 4/5 stars
2: THE CATCHER IN THE RYE
AUTHOR: J.D Salinger
PAGES: 229
SERIES: none
THOUGHTS: I didn't love this book as much as a lot of people do, but I didn't hate it as much as a lot of people do either. I found it to be entertaining, thought provoking and well written, but it wasn't life changing.
RATING: 3.5/5 stars
3: ELEANOR AND PARK
AUTHOR: Rainbow Rowell
PAGES: 325
SERIES: none
THOUGHTS: If you've read my top 5 books of 2014 you know what I though about this one. It was my second time reading it, and I loved it even more this time round. In short: favorite book of the year.
RATING: 5/5 stars
4: EVERY SECOND COUNTS
AUTHOR: Sophie McKenzie
PAGES: 405
SERIES: split second, book 2
THOUGHTS: After reading-and disliking-four of her books, I've come to the conclusion that me and Sophie McKenzie just don't really get on. This book wasn't horrible and I know a lot of people really love her, but for some reason I just can't get into her writing.
RATING: 3/5 stars
5: LET IT SNOW
AUTHOR: John Green, Maureen Johnson and Lauren Myracle
PAGES: 354
SERIES: none
THOUGHTS: This was another reread, and I think it's going to become a tradition for me to read it every Christmas. It's just so cute and festive and it really got me into the holiday spirit.
RATING: 4/5 stars
6: FINDING SKY
AUTHOR: Joss Stirling
PAGES: 308
SERIES: Benedicts trilogy, book 1
THOUGHTS: I enjoyed this book, but it didn't really stand out to me. I thought it was fast paced and I liked the paranormal aspects but overall it was pretty average.
RATING: 3.5/5 stars
7, 8 AND 9: THE INFERNAL DEVICES MANGAS
AUTHOR: Cassandra Clare and Hyekung Baek
PAGES: clockwork angel- 240, clockwork prince- 260, clockwork princess- 256
SERIES: the infernal devices manga, books 1, 2 and 3
THOUGHTS
:

The infernal devices is my favorite book series of all time, and it was so cool to see the story in manga form. It didn't have quite the same impact that the book did, but I really enjoyed reading these. (and I still cried, of course)
RATING: 5/5 stars
10: THE MANIFESTO ON HOW TO BE INTERESTING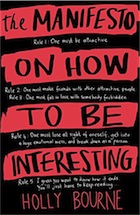 AUTHOR: Holly Bourne
PAGES: 448
SERIES: none
THOUGHTS
:

I loved this book! It was really interesting and touched on a lot of important topics that I don't normally see discussed in YA.
RATING: 4.75/5 stars
CURRENTLY READING: THE DISREPUTABLE HISTORY OF FRANKIE LANDEAU-BANKS
AUTHOR: E. Lockhart
PAGES READ: 72/ 342
SERIES: none
THOUGHTS
:

I've only just started, but so far I'm really enjoying it!
TOTAL FULL BOOKS READ: 10
TOTAL PAGES; 3,252
Overall I had a really good reading month. I got more reading done than I normally would because I had some time off school for Christmas, and I really enjoyed most of the books I read. Yay!
There's about 5 hours left of 2014 here in England, so Happy New Year! Here's to reading loads of good books in 2015 :-D
-Mia xx