Hi guys!
Today I just want to tell you about some of the books I've read recently.
There are all books that I don't have enough thoughts about to write a full review, but I do want to say a bit more than
I would in a wrap up.
A DARKER SHADE OF MAGIC - V.E SCHWAB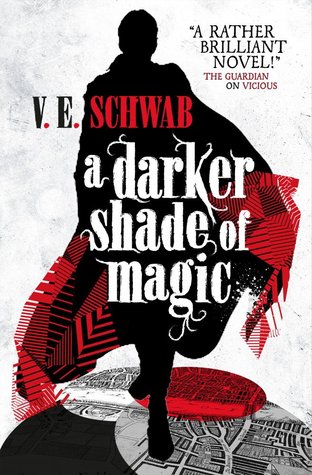 I loved this book SO MUCH. I actually kinda maybe started writing this post just so I could rave about it. A darker shade of magic follows Kell, a rare magician who can travel between alternate versions of London, all with different levels of magic. Kell gets into some trouble, meets a badass cut throat called Lila (who I love more than I love myself. She'd the best), and things get crazy. That's all I'm going to say.
The world in this book is unique and intriguing, and the atmosphere V E Schwab created is just so magical and mysterious. I love her writing style. The book totally sucked me in, and I became obsessed with the story and the characters, I'm so glad there's going to be a sequel!
A darker shade of magic had exactly the right amount of magic and action and friendship and sass and LONDONS!, which are basically all the things I look for in a book.
I'm sure it's so surprise, now you've heard what I had to say about it, that this book got
5/5 STARS!
HOLD ME CLOSER: THE TINY COOPER STORY - DAVID LEVITHAN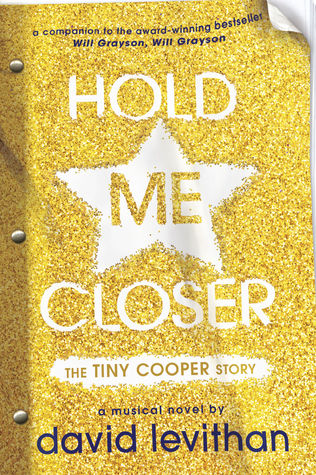 I know I already talked about this book in my March wrap up, but I really liked it so I'm going to elaborate a little bit here.
Hold me closer is the companion to Will Grayson, Will Grayson (written by David Levithan and John Green). I definitely recommend picking up Will Grayson first, you won't enjoy this book nearly as much if you haven't, but if you liked that book then you're going to love this.
If you have read Will Grayson, you'll know that Tiny Cooper was wrote and performed a musical about his life. This is basically the script of that musical.
Hold me closer is ridiculous and over the top, but it's unexpectedly poignant at points too. It deals with the topics of being gay and coming out in a way which is hilarious and unique but doesn't diminish the situation in any way. Of course I loved reading the songs and making up the tunes in my head, and although there were a few musical theater references that went over my head I did appreciate the ones I understood. I already loved Tiny Cooper from reading Will Grayson, Will Grayson and so I really enjoyed reading more about his story. My only problem was that it was really short and only took me an hour or so to read, and because of this it didn't stick with me as much as it could have done.
All in all, Hold me closer was thoroughly entertaining, and I gave it a
4.5/5 STARS.
THE YEAR OF THE RAT - CLARE FURNISS
The year of the rat follows Pearl, whose mother dies in childbirth, as she copes with the death of her mother and the life of her new little sister. It has a lot of awards, and a lot of praise from various people I know and trust, but my thoughts on it were kind of conflicted.
The book is beautifully written and well crafted, I have no complaints about that. It handles the topics of loss and grief elegantly and realistically. This is definitely a book that pulls on your heart strings! I was intrigued by the plot overall and I liked seeing where the story went, but unfortunately there were a few things that let it down for me.
I didn't really enjoy the main character Pearl. I totally understood why she acted the way she did, and really the book wouldn't have worked as well if she hadn't been bitter and angry and (understandably) upset, but it was just so frustrating to read about! Of course she developed and changed by the end of the book I still couldn't relate to her as much as I wanted to. I also felt that sometimes the plot was a little bit strange, especially when Pearls mum kept showing up in kind-of-maybe-a-ghost form. I just didn't think the possible supernatural elements added anything to the story.
Overall, the year of the rat was definitely beautiful and moving, but I did end up feeling a little bit dissapointed. I give it
3.75/5 STARS,