Hi everyone,
August is (unfortunately) over, which means it's time to talk about all the books I read in the month! I was off school all month which meant I had a lot more time than normal to read, and I ended up getting through a total of thirteen books this month and started 2 more. Half of the books I read were the Harry Potter series, so I think it's fair to say that I had a really brilliant reading month...
AM I NORMAL YET? - HOLLY BOURNE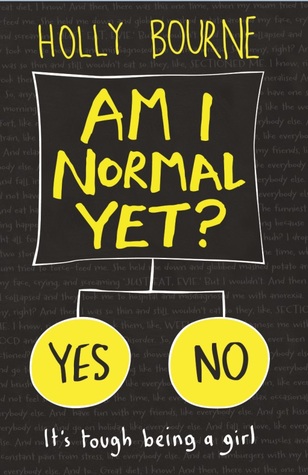 PUBLISHER:
Usborne
RELEASE DATE:
1st August 2015
PAGE COUNT:
434
GOODREADS:
x
MY THOUGHTS:
Holly Bourne is still yet to disappoint me. In fact, I think this is my favorite book of hers so far. It's a painfully honest depiction of OCD, with brilliant themes of friendship and feminism (FEMINISM! in YA! It's great) and some really relatable characters. It made me laugh, it made me cry, and I think that it's a really important book everyone should read.
RATING:
4.5/5
I then took part in the booktubeathon, during which I read seven books. I talked about all of them in more detail in my BOOKTUBEATHON WRAP-UP so I'm just going to list them here.
Lying out Loud - Kody Keplinger, 3/5 stars, full review

Noughts & Crosses graphic novel - Malorie Blackman, 4/5 stars

Reawakened - Colleen Houck, 4/5 stars, full review

Harry Potter and the Philosopher's stone - J.K Rowling, 4.5/5 stars

Birdy - Jess Vallance, 4/5 stars

Harry Potter and the Chamber of Secrets - J.K Rowling, 4.5/5 stars

Harry Potter and the Prisoner of Azkaban - J.K Rowling, 4.8/5 stars
HARRY POTTER 4-7 - J.K ROWLING
I'm so, so, so, so in love with this series right now. I don't even know what to say. J.K Rowling is a genius, and she's completely captured my imagination and broke my heart with this story and characters. I gave all of the books in the series something between 4.5 and 5 stars, with The Goblet of Fire being my favorite and the order of the Phoenix being my least favorite.
If you somehow haven't read this yet I suggest you sort that out immediately. Better late than never, right?
AN EMBER IN THE ASHES - SABAA TAHIR
PUBLISHER:
HarperCollins
RELEASE DATE (UK):
June 4th 2015
PAGE COUNT:
448
GOODREADS:
x
MY THOUGHTS:
There are two reasons why I didn't enjoy this book as much as I could have:
1) I had just finished Harry Potter and nothing could even come close to how much I loved it.
2) I read the first half on a long car journey in the early hours of the morning when I was half asleep, and I couldn't really take anything in.
Despite that, and despite the fact it took me ages to get into this book, I thought it had a really interesting world and intriguing story and there were some really great action scenes, especially near the end. I ended up really enjoying it overall and am eagerly anticipating the sequel!
RATING:
4/5
HELLO, GOODBYE AND EVERYTHING IN BETWEEN - JENNIFER E. SMITH
PUBLISHER:
Headline
RELEASE DATE (UK):
September 1st
2015
PAGE COUNT:
256
GOODREADS:
x
MY THOUGHTS:
Hello, goodbye and everything in between is a refreshingly relatable and realistic contemporary about two teenagers about to go off to college. I did have quite a few issues with it, but I enjoyed it overall. You can find out more in my FULL REVIEW.
RATING:
4/5
I also read 258 pages of Percy Jackson and the Greek Heroes by Rick Riordan and about 120 pages of vengeance road by Erin Bowman, both of which I'm really enjoying and will be talking about in next months wrap up!
Sorry that this post was a bit of a mess, I've got readathons and J.K Rowling to blame for that. I read some really brilliant books this month, and I'm hoping September will be just as good!
Thanks for reading,
-MIA