Hi everyone!
So, I'm in a reading slump. Still. I have been for pretty much this entire year, but now I can't even blame it on exams or other school stuff. It's summer and I'm totally free, so why am I not reading?
I've read less than fifteen books so far this year. For some people that might sound like a lot, but considering I'd read over 60 by this point last year it's really kind of pathetic. It's not that I don't want to read, it's just that I can't find any motivation to actually pick up a book and concentrate on it for more than five seconds. It really sucks.
I've tried all of the tips people have for getting out of reading slumps. I've tried reading really short books. I've tried rereading my favourites (TFiOS was great, but it just didn't help). I've tried reading books I've been excited for for ages. None of it is working. Honestly, I think I'm just going to have to wait for my reading mojo to return to me in it's own time.
Since I'm not reading anything, I don't really have anything to write blog posts about. This is a book blog, for gods sake! That's why I didn't post for months at the start of the year, and all of my recent posts have either been about my writing, Cursed Child (let's be honest, I will never stop talking about Harry Potter) or have been book TAGs. I just don't know what to write!
This is kind of a pointless post, but I just wanted to rant a little bit and explain why all my posts recently have been so repetitive. Anyway, here are the books I'm currently trying (and failing) to read:
A COURT OF MIST AND FURY - SARAH J. MAAS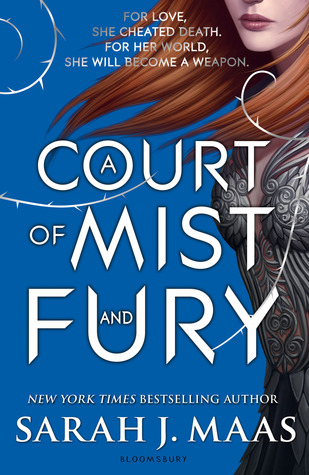 I don't know why I'm not enjoying this book. I really liked the first book and I love the concept of this series, but for some reason I'm just completely failing to connect with the writing or the characters. I got about a third of the way in and I was just really struggling to get through it, so I decided to put it down for a while to start other things. I've heard so many great things about this, so I really hope I enjoy it more when I pick it up again!
BLACK WIDOW: FOREVER RED - MARGARET STOHL
I'm actually really enjoying this one, I just don't have the motivation to read it! I'm just over half way through after reading it for about a week, which is ridiculously slow for me. It's fun and fast paced and I love seeing more of Black Widow as a character, but it's still not enough to drag me out of this goddamned slump.
SUMMER DAYS & SUMMER NIGHTS - EDITED BY STEPHANIE PERKINS
This is a short story collection so I don't really feel bad about reading it slowly. What I do feel bad about is not having picked it up for, like, three weeks. I've read 8 of the 12 short stories so far and enjoyed most of them, but I can't find the will power to pick it up and read the rest. It's so frustrating!
Thanks for listening to me complain, and have a great weekend,
-MIA