GOOD NEWS: I'm out of my reading slump!
Harry Potter and the Cursed Child
has managed to restore my reading motivation, and for the first time this year I actually feel like I can pick up a book a read. It feels AMAZING. J.K. Rowling is my hero.
To celebrate my newly recovered reading mojo, here are some of the books I'm planning to read over the next month.
WHAT I COULDN'T TELL YOU - FAYE BIRD
I sort of
have to read this one because
I'm going to be part of the blog tour, but I'm about half way through right now and I'm really, really enjoying it. Watch out for a full review coming August 25th!
WHAT'S A GIRL GOTTA DO? - HOLLY BOURNE
I love Holly Bourne, particularly this series, so when I saw this book at Foyles just before it's release date I picked it up immediately. Unfortunately the stupid reading slump prevented me from reading it then, so I'm very excited to FINALLY read it this month.
PAPER BUTTERFLIES - LISA HEATHFIELD
Lisa Heathfield's Seed was one of my favourite books of last year (or was it 2014? I read an arc and I can't really remember) so I am very excited to read this. I honestly have absolutely no idea what it's about but my hopes are high.
GAME OF THRONES - GEORGE R.R. MARTIN
I have a 6+ hour drive at the end of the month, which seems like the perfect opportunity to start this monster of a book. My Dad loves the show so much that he got me the entire box set of the books as a present (Yes, he is the best) and I'm so excited to finally be able to talk about it with him.
WHEN WE COLLIDED - EMERY LORD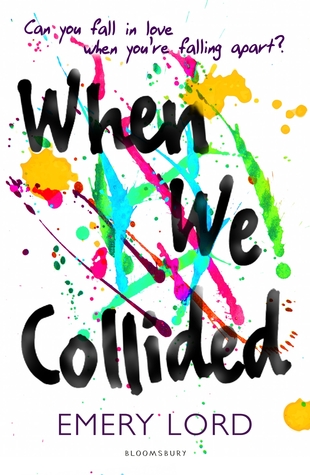 I literally don't know anything about this book but it seems like a good thing to read on the beach so it's coming on holiday with me. I've heard some good things, so hopefully I enjoy it!
HARRY POTTER AND THE PHILOSOPHER'S STONE (ILLUSTRATED EDITION) - J.K. ROWLING
I'm in full on Harry Potter fangirl mode at the moment, so it only seems right to reread at least one of the books. I got the illustrated edition of Philosopher's stone for Christmas and I've flicked through it a million times but I've never actually read it all the way through. It's time to change that.
Thanks for reading, and have a great month!
-MIA